Durham PCC Ron Hogg faces IPCC probe over payments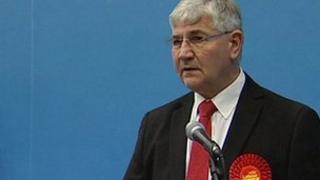 Durham's police and crime commissioner is being investigated over allegations he accepted employee benefits he was not entitled to, the Independent Police Complaints Commission (IPCC) said.
The commission said the probe relates to payments Ron Hogg received during his final period as Deputy Chief Constable of Cleveland Police.
The watchdog claims Mr Hogg knowingly took benefits he was not entitled to.
Mr Hogg said he was "confident" he acted in "good faith" throughout.
The allegations were referred to the commission by Durham's Police and Crime Panel after receiving information from officers working on Operation Sacristy - a probe into alleged corruption at Cleveland Police.
'In line with rules'
Mr Hogg said: "I will fully co-operate with the IPCC investigation and I am confident that they will find I have acted in good faith throughout.
"Remuneration I received when working for Cleveland Police was determined by Cleveland Police Authority. I took no part in the decision-making process over the remuneration I received."
The independent investigation will be overseen by Commissioner James Dipple-Johnstone, the IPCC said.
Mr Dipple-Johnstone said: "The IPCC investigation will look at whether benefits Mr Hogg received before his departure from Cleveland Police were properly in line with rules in place at the time.
"We will carry out a thorough and independent inquiry to establish the facts before deciding whether any matters should be referred to the Crown Prosecution Service for its consideration."
Labour candidate Ron Hogg won the race to become Durham's first police and crime commissioner in November.
He had a 30-year career as the assistant chief constable in Durham and deputy chief with neighbouring Cleveland, before retiring in 2008.