Ice cream boss Rosa Arrighi celebrates 100th birthday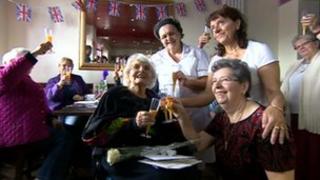 Almost 90 years after she began working in her parents' humble Northumberland cafe, ice cream maker Rosa Arrighi has received a telegram from the Queen.
Rosa came to Britain, with her Italian parents, as a toddler and the family settled in Seaton Delaval, where they developed their own brand of ice cream.
Nine decades later, as she celebrates her 100th birthday, the business and the ice cream are still going strong.
Her parents Carlo and Marianna Arrighi opened the Crescent Cafe in Seaton Delaval in 1925 - and it has remained a family affair for four generations.
'Still feel young'
Rosa, who was born on 1 October 1913, said most of her years were happy ones, apart from when World War II broke out in 1938.
Her family split up and she was forced to run the business on her own.
But she managed to keep it going and, more than six decades later, she is still a familiar face in the Avenue Crescent cafe.
Celebrating her centenary with a big party for 200 friends, family and customers, she said: "I still feel young."
Rosa's daughter Grazia, 66, and Milvia, 63, and granddaughter Stepfania, 27, now run the family business.
'Fire and fight'
Grazia Bonadies said: "Things were a little tough during the war - my grandfather was interned for being Italian and my mum was by herself running the business.
"She often said she was lonely and many a times during the war she was accused of going out into the back garden with a lantern to direct German fighter planes.
"She is always telling us how we have it easy nowadays and we don't know what hard work is.
"She used to have to do things like cut up dry ice with an axe as part of the ice cream making."
Rosa often reminisces about life in the cafe through the decades.
In 1936, the family got its first hand-held ice cream cart which Rosa's son Peter would take to the park.
Father Carlo also had a horse-drawn ice cream cart which he would take around Seaton Delaval selling penny cornets.
Boycotted cafe
In 1937, the family bought its first ice cream van, but it had to be sold within months to make ends meet as war broke out.
And in 1938 ice cream making came to a halt as customers boycotted the cafe as a protest against Italy siding with Germany.
As the war took its toll, the cafe was down to just three customers a day and struggled because ingredients for ice cream were also scarce.
Carlo Arrighi was interned by police in Seaton Delaval and then moved to the Isle of Man while Marianna, his wife, moved to Carlisle with her youngest two children to stay with family, forcing Rosa, then 25, to run the business on her own.
Returning to Italy in 1943, Rosa met Sergeant Major Francesco Bonadies, whom she married in 1946, keeping her maiden name.
In 1947 their first child, Grazia, was born followed by Marianna in 1949, Milvia in 1950 and Francesca in 1953.
The couple were happily married and making ice cream for more than 50 years until Francesco's death in 1998.
Grazia Bonadies added: "My mother still has a lot of fire and fight in her, you can see it in her eyes."