Lindisfarne Gospels Durham exhibition attracts 100,000 visitors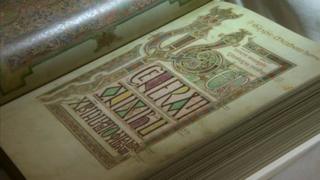 An exhibition offering the opportunity to see the Lindisfarne Gospels in Durham has attracted nearly 100,000 visitors during its three-month stay.
The Durham University exhibition gave people a rare opportunity to see the 1,300-year-old gospels outside London.
The exhibition, which opened on 1 July, has attracted 97,208 visitors from as far as Canada, New Zealand and Asia.
Programme director Dr Keith Bartlett said the manuscript had "inspired" the whole of the region.
The manuscript, created by Eadfrith, Bishop of Lindisfarne in honour of St Cuthbert, was last in the region in 2000 and there has been a long-running campaign for the North East to keep the gospels permanently.
'Durham and beyond'
Also on display was the jewelled cross, travelling altar and a sapphire ring found in St Cuthbert's coffin, with loans from other collections including The Viking Raiders' Stone and items from the Staffordshire Hoard.
About 1,200 people per day visited the exhibition, with traders in the city reporting that 2013 had been their "best year ever" for business, according to Durham University.
Dr Bartlett said: "It's been absolutely amazing. The whole of Durham has been lifted, the whole of the region has been inspired.
"We've had 100,000 people through the doors and looking at the visitors book, the number of superlatives that people have put in there, I couldn't have put it better myself.
"From the start we wanted to make sure it was more than just a book in a box in Durham.
"What the people have seen is an exhibition that tells the story of the gospels, its journey both creatively and physically from Lindisfarne right the way through Durham and beyond."
Durham University can bid for the gospels to return to the region again in 2020.
The exhibition ends at 22:00 BST on Monday.