Message in a bottle sparks Durham Cathedral graves probe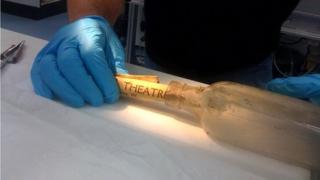 A faded message found in a bottle buried 100 years ago inside Durham Cathedral has sparked a search for a mystery grave.
The corked bottle was found during the relaying of flagstones near the tomb of the Venerable Bede.
Inside was a handwritten note on a 1913 theatre flyer, with the names of three men who claim to have opened a grave in the cathedral's Galilee Chapel.
Experts are now sifting through records of work done in the chapel at the time.
Blue pencil
The bottle, discovered on Tuesday, was handed to scientists at Durham University, who examined it under ultraviolet light.
Once opened, they found a printed flyer from the Globe Theatre - now the Gielgud Theatre in London - dated 1913.
On the reverse was a handwritten note with the names of three men who say they opened an unidentified grave on 11 May 1913.
Staff at the cathedral are now trying to identify which grave may have been disturbed and why, although they are sure the Venerable Bede's remains were not disturbed.
Durham Cathedral archaeologist Norman Emery said: "On the back of the flyer someone has written in blue pencil the names of three men and something which looks like a mason's mark.
"There is another word, which looks like 'grave' and below that 'this grave was opened on May 13, 1913.'
"It is intriguing to actually find under the floor a bottle recording something that appears to have happened to a grave in that chapel.
"But unfortunately it doesn't reveal what they did, whose grave it was or why they disturbed it or to what extent they disturbed it.
"We know of a volume that was written in the late 19th Century, which recorded the inscriptions on graves in the Galilee Chapel.
"So if we go through that we might be able to match it with graves that are there now and see if we find that there is a missing grave marker.
"That might give us a clue to whose grave this was."