Newcastle's Institute of Transplantation officially opened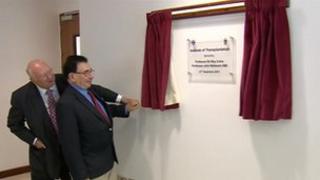 A £26m dedicated transplant centre in Newcastle has been officially opened.
Freeman Hospital's Institute of Transplantation, which started treating patients in 2012, was unveiled by surgeons Sir Roy Calne and Professor John Wallwork.
The institute includes four theatres, a research centre and a 30-bed ward.
Chief executive Sir Leonard Fenwick said the centre was the "first [in the UK] dedicated solely to solid organ transplant surgery".
He said staff were "extremely proud of the institute".
"We are so thrilled, not just for the North East, but for the UK and the other countries we also engage with."
Since the 1960s, Newcastle Hospitals have performed over 6,500 organ transplants.
Surgeons at the Freeman Hospital carried out the UK's first successful heart transplant for a baby in 1987 and the first single lung transplant in Europe in the same year.