Adrian Muir found guilty of Pamela Jackson manslaughter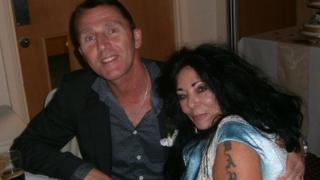 A man has been convicted of killing his girlfriend and burying her body in a shallow grave.
Adrian Muir, 51, from Calder Terrace, Halifax, West Yorkshire, was cleared of murdering Pamela Jackson, 55, from Chester-le-Street, County Durham.
But he was found guilty of manslaughter at Newcastle Crown Court.
Senior investigator Det Supt Ken Donnelly said Muir was "calculating and resourceful" and did not "have the decency to admit his guilt".
The grandmother went missing from her home in March and her body was found in May on the moors above Halifax.
She died from head injuries.
'Disaster' messages
The jury was told Muir fractured her skull following a row at her home and dumped her body 120 miles away.
"Muir went to incredible lengths to dispose of the body," Det Supt Donnelly said.
"He is a dry stone waller who knew how to lay foundations and dig quickly.
"He had all the skills to dig the grave and construct a series of layers of soil, clay and other material."
Muir's phone was tracked making the journey from Chester-le-Street to the West Yorkshire moor on the night Ms Jackson disappeared.
His fingerprint was found on a bag containing flowers he had placed on her body.
In the days after killing Ms Jackson, Muir was suicidal and recorded a series of messages on his phone, saying he could not continue to live and that there had been a "disaster", the court heard.
Ms Jackson, a mother-of-three adult sons who suffered from bi-polar disorder, had taunted Muir in a series of texts, calling him "ugly" and boasting she had a new lover, the jury heard.
He will be sentenced on Monday.