Northumberland colliery miners reunited after 30 years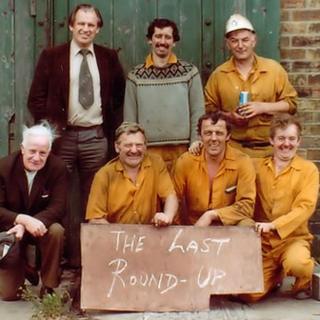 A group of miners who worked together more than 30 years ago at a Northumberland pit are being reunited.
Woodhorn Colliery, which opened in Ashington in 1894, was a working mine for more than 80 years, producing 600,000 tons of coal each year.
Now, 32 years after production ended at the site, about 80 former miners and surface workers are meeting up.
Billy Robson, who worked at the pit for 17 years, said he was looking forward to talking about the "old days".
Work to sink the first shaft began in 1894 and the first coal was brought to the surface in 1898 - at its peak, almost 2,000 men worked at the site.
Mr Robson began work digging coal by hand in shallow coal seams at Woodhorn from the mid-1950s, days after finishing school.
He said it was a "really friendly" pit and the working men were "like a family".
Woodhorn Colliery closed in 1981 but the tunnels and shafts continued to be used for nearby Ashington Colliery until 1986.
In 1989, it was opened as Woodhorn Museum and Northumberland Archives in the original Grade II-listed colliery buildings, providing interactive displays of life in the former mining community.
'Community bond'
About 80 former Woodhorn workers are meeting up at the museum on Saturday for the reunion.
Museum director Keith Merrin said: "Woodhorn has undergone many changes since those industrious days, and looking around the historic site now, it's hard for non-miners to imagine what it must have been like.
"So much has changed in those intervening years, but the stories and memories will remain with the men who worked underground, and the men and women who worked 'on bank'.
"This reunion is a wonderful opportunity to bring together old friends and rekindle, even just for one evening, the comradeship and community bond."
The site is now recognised as a scheduled ancient monument and original buildings still standing include engine houses, buildings at the surface of the mine and the blacksmith's shop.
Mr Robson said: "I'm hoping to see lads I haven't seen in years. I don't get out so much these days but I've got a set routine where I go to the same club.
"I think my old workmates will be the same so our paths don't cross. The reunion will be a great opportunity to catch up and talk about the old days."