Medomsley Detention Centre: 64 new 'victims' come forward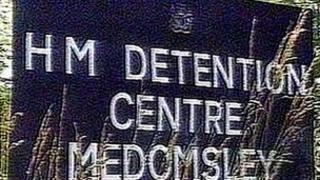 More than 60 people have contacted police in the past month to say they were sexually abused at a former County Durham detention centre.
Medomsley juvenile detention centre was the focus of an investigation which resulted in Neville Husband and Leslie Johnson jailed for abusing inmates.
The case was reopened in August when a former inmate said he was also abused.
Det Supt Paul Goundry said: "We have 64 victims to date. That number is growing and will no doubt grow again."
Church minister Husband, who worked at the detention centre as a prison officer, was jailed for 12 years in 2003 for the abuse which is said to have happened between 1974 and 1984.
Johnson, a store man, was sentenced to six years in 2005.
Both are now dead.
'Utmost respect'
Durham Police said "almost two dozen" victims were known to police in the original investigation. Sixty four alleged victims have come forward since it reopened.
Det Supt Goundry said police were looking for other potential victims, abusers and "potentially senior management turning a blind eye".
"We will go where the evidence takes us," he said.
"It's heartbreaking. The young men who were sent to Medomsley potentially only had one offence, their first offence, and if you came under the care of Neville Husband there was every possibility you would be sexually abused and raped."
John McCabe, from East Kilbride in Scotland, who has waived his right to anonymity, prompted the investigation to be reopened.
He said the abuse took place 30 years ago when Husband recruited him to work in the kitchen, and that he also took him out of Medomsley, where he was raped by another man.
"I'd like to assure the victims that have come forward or any that come forward will be treated with the utmost respect," Mr McCabe said.
"If that means counselling right away, Durham Constabulary will do that."
Kevin Young was 17 when he was sent to Medomsley in 1977 for handling a stolen watch.
"Neville Husband picked me out for kitchen work," he said.
"Within days what started as light touching and pressing himself against me very quickly escalated into situations where he was forcing me to go upstairs to a store room area.
"He would lock me in the store room area and uninterrupted would carry out what I've always described as torture."
Medomsley closed in the late 1980s after the abuse came to light. It has since reopened as a secure training centre.
In 2003, Newcastle Crown Court heard how Husband, who became a minister in the United Reformed Church after 27 years in the prison service, had used his position of authority to systematically abuse his victims.
The male inmates, who were aged between 16 and 19 at the time, had been picked by Husband to work in the kitchens, where he would sometimes "blatantly" indecently assault them or take them away for abuse in secret.