Druridge Bay skinny dippers raise charity cash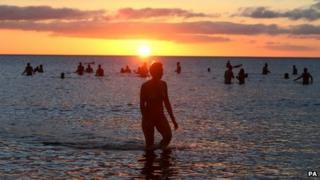 Almost 200 people braved the cold of the Northumberland coast and stripped off to raise money for good causes.
The North East Skinny Dip, now in its second year, took place at sunrise on Druridge Bay.
Although they failed in their attempt to break the world record, set at 729 in Spain, organisers described the event as "amazing".
Thousands of pounds will go to the National Trust and the mental health charity Mind.
Speaking before it took place, organiser Jax Higginson, said: "This event isn't about looking good.
"It's about taking a risk, celebrating our unique bodies, being close to nature, raising money for charity and maybe even breaking a world record."
Simon Lee, from the National Trust, which owns Druridge Bay, said about 180 people turned up.
"They were from all walks of life, different ages, there was a great team spirit to it, a lot of laughter," he said.