Under-threat Hexham Good Stable Edwardian stables saved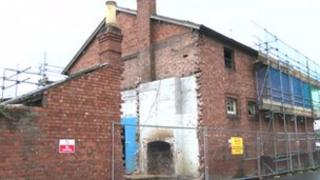 An Edwardian stables which was due to be flattened to make way for a shopping development has been saved by a museum.
Hexham Goods Stables in Northumberland was the home of horses used to hoist and load goods at the town's railway station early last century.
But because it does not have Grade II protection, Northumberland County Council was going to demolish it.
But now it has been saved by Beamish Museum and will be removed brick by brick and rebuilt in Durham.
Hexham Civic Society (HCS) asked Durham's Beamish Museum to save the building with the help of English Heritage.
It will take engineers and builders several months to carefully take it apart brick by brick and rebuilt it as part of Beamish Museum's Edwardian village.
Building at risk
Beamish Museum recreates what life would have been like during the Georgian, Victorian, and Edwardian times for ordinary people.
A spokesman for Beamish Museum said: "This is part of what we do as a museum. When a building like this is at risk and going to be demolished we can sometimes save it.
"But we literally have to take it down by hand, put it on palates and put it into storage for the day when we will put it back together again."
A HCS spokesman said: "It is a great shame that the building will be lost from Hexham, but it is excellent that they will nonetheless survive at Beamish."