Auf Wiedersehen, Pet's 30th anniversary celebrated on Tyneside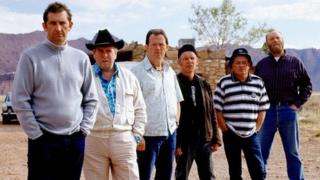 Stars from the cast of Auf Wiedersehen, Pet are returning to Tyneside to celebrate the show's 30th anniversary.
First aired in 1983, the Geordie comedy followed the adventures of a group of construction workers on building sites in Germany, Spain, Cuba, and the USA.
Written by Ian La Frenais and Dick Clement, it went on to make stars of many of the actors taking part.
Now, to celebrate the show's 30th anniversary, a series of celebrations are being held in Newcastle.
On Saturday there will be an event at the Tyneside Cinema at which the results of a fans' poll will reveal their all-time favourite episode.
There will also be the chance to put questions to La Frenais and Clement, who said: "It will be really interesting to find out which is the fans' favourite."
'Brickies banquet'
He said one episode from the series which resurrected the show in 2002, which involved the "sale" of Middlesbrough's Transporter Bridge, provoked a strong reaction.
"A lot of people believed that," he said. "They were outraged that the Transporter Bridge was going to be torn down."
Saturday evening will feature a "Brickies banquet" at the Hilton Hotel, where fans can meet the writers and members of the cast.
On Sunday there will be a guided bus tour of TV and film locations around Newcastle and Gateshead including places used in Auf Wiedersehen Pet, The Likely Lads, and Our Friends In the North.
All profits from the weekend's events will be donated to The Sunday for Sammy Trust, a charity that provides funding for young people from the North East looking for a career in performing arts.
Auf Wiedersehen Pet was first broadcast in 1983 on ITV, and tackled the subject of the recession, with seven out-of-work construction workers from different parts of England heading for Germany to find work.
Household names
The show ran for two series in the 1980s and returned for another series and a two-part special in 2002 and 2004.
It also made household names of the lead actors Tim Healy, Kevin Whately, Jimmy Nail, Gary Holton, Christopher Fairbank, Pat Roach and Timothy Spall.
The then-unknown Nail made a particular impression when he turned up for the audition.
La Frenais said: "When he walked in, Dick turned to me and said 'Oh my god, this is odd, please may he be able to act. Even just a little'."
Nail, who was given the role of abrasive bricklayer Oz, said: "I didn't know what they wanted me for.
"I didn't understand at the time what the scale of the job was going to be."
Holton, who played womanising Cockney carpenter Wayne, died after a drug overdose in 1985 at the age of 33 during filming of the second series. Roach, a former wrestler who starred as bricklayer Bomber, died of throat cancer aged 67 in 2004 after the second "comeback" series.
Healy, who played Dennis, the unofficial leader of the group and now appears in ITV sitcom Benidorm, said: "It will be great to be back with the boys again.
"We've all come a long way since the series started, but it's a show that will always be in my heart and soul."