Paul Butler to be new Bishop of Durham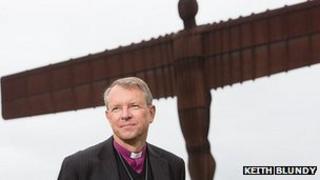 The Bishop of Southwell and Nottingham, the Right Reverend Paul Butler, is to be the next Bishop of Durham.
The 57-year-old churchman is set to be installed at a service early next year, Downing Street said.
The former Bishop of Durham, Justin Welby, was enthroned as the Archbishop of Canterbury earlier this year.
Bishop Butler, who has also served as Bishop of Southampton, said a top priority would be to tackle poverty in the North East.
The Bishop of Durham is seen as one of the most high profile roles in the Church of England.
'Poverty is a scourge'
Bishop Butler, a married father of four, said: "I come here deeply aware of the challenges faced by the community and the Church.
"I will want to build relationships with the clergy, local community leaders, local and national politicians and business leaders.
"Tackling poverty together must also be a priority.
"Together as communities, with the Church in all its forms playing a key role, we must seek to see what we can do ourselves as well as look to support from elsewhere.
"Poverty is a scourge that we can only tackle together. I recognise that it is found in urban and rural communities.
"In my role in the House of Lords I will want to speak up strongly for this region, advocating for its specific needs."
Mark Bryant, the Bishop of Jarrow, said: "I know Bishop Paul has always had a deep interest in and concern for the communities in which he has worked and I know that he will bring that to the North East.
"I know too that he has a deep passion for helping churches to grow and make a real difference to the lives of individuals and communities and that will be a real help to us in the churches in the Diocese of Durham."