The Great North Run hoodie clean up that helps animals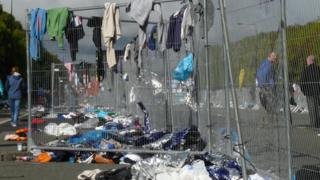 Once all the runners have finally crossed the Great North Run start line they leave behind an astonishing site.
Thousands of hoodies, jumpers and fleeces lie abandoned on the ground and hanging from the railings, making the closed road look like the set of a disaster movie.
But what happens to them?
Unless they have come dressed as a chicken or Batman, people who run the famous half marathon from Newcastle to South Shields have a problem.
They need to keep warm while waiting to start without being too hot later on.
It can take almost an hour for the last person to cross the start line and most of that will be at a slow shuffle.
So, many take their oldest, most frayed top and throw it away when they get going.
'Tattiest tracksuit'
Running to raise money for the Alzheimer's Society, Steve Cummings has contributed to the pile of discarded clothes.
"It's normally the tattiest tracksuit bottoms and top I've got," he said.
"Probably stuff that the missus would rather I threw out anyway."
Mark Ellis, who will be running for the Freeman Hospital children's heart unit, admits to abandoning a present from his mother.
"The thing I threw away was something my Mam insists on buying - long sleeved t-shirts.
"I never wear them. The one I chucked away I'd never worn."
The clothes are not cleared up with the rubbish but, instead, collected for good causes.
Mr Ellis thinks the system - in effect a mass charity donation - is "really clever".
This year the animals charity PDSA will be its beneficiary.
Events fundraiser Sarah Johnson said staff and volunteers would "dash into action as soon as the race is under way" to collect the clothing.
"The vast majority is old clothing," Ms Johnson said. "Very few people will cast off their newest sweat top, but everything counts and every garment is valuable."
It took them an hour to gather garments left after the Birmingham half marathon last year, she said.
The Great North Run has more than twice as many runners - about 40,000 compared with 18,000.
Clothing from the Birmingham half marathon contributed £1,000 to its annual running cost of £60m.
Event manager for race organisers Nova International, Joe Milner, said they wanted to "ensure that any clothing left at the end of the run goes to a good home".
He expects about 6.5 tonnes to be collected.
Runner Mr Ellis has now swapped to wearing plastic bags after seeing the trend at other races.
"Bin bags are popular and they're cheaper," he said. "You just put a hole in long ones for your head and punch your arms through and it covers more or less your whole body."