Sir Bobby Robson's charity buys cancer research equipment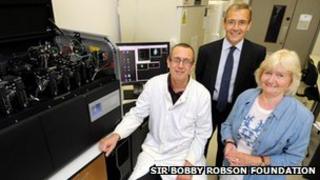 Researchers involved in drug trials to fight cancer have been given a boost thanks to new equipment funded by the Sir Bobby Robson Foundation.
The ImagestreamX allows scientists to see how cancers spread around the body and how effective treatments are.
The equipment was funded with £438,000 from the charity set up by the former Newcastle and England manager.
It has been installed at Newcastle University's Northern Institute for Cancer Research.
Research associate Dr David Jamieson said: "We do a lot of work around clinical trials and early phase clinical trials.
"We are interested in finding out quite early on whether the drugs we give to cancer patients are actually doing what they are designed to do.
"Circulating tumour cells in this machine offers us a way of identifying and characterising how tumour cells are responding to novel therapies."
Fluorescent images
The equipment is able to analyse up to 4,000 individual cells a second.
It works like a microscope by taking high-quality fluorescent images of cancerous cells which have been tagged with a marker
Researchers are then able to identify cancerous cells which may have become separated from a tumour, and see if they are responsible for the spread of cancer around the body.
The foundation said it had been able to help buy the equipment thanks to the support of fundraisers and Newcastle Building Society, which has given £500,000 to the charity.
The foundation funds projects within the Newcastle upon Tyne Hospitals NHS Foundation Trust to support cancer patients across the North East and Cumbria.