Lorry driver Owen Davis had coughing fit before Seaham fatal crash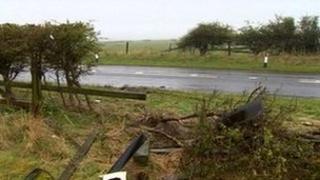 A lorry driver has told an inquest how he had a coughing fit before a crash which killed four members of a family.
Owen Davis, 42, told the inquest he coughed for about six seconds before passing out. He then woke up after the crash in County Durham in April 2012.
Robert Reed, 75, his wife Margaret, 74, their one-year-old granddaughter Destiny, and her mother Natalie, 18, died in the crash, near Seaham.
Durham Coroner Andrew Tweddle ruled all the deaths were caused by accident.
Mr Davis, from Hetton-le-Hole, was initially arrested after the crash, near Sharpley Golf Club, but later told he would not face prosecution.
The hearing in Crook was told Mr Davis's blood was tested for whooping cough after hearing his teenage son had also passed out during a coughing fit.
The test revealed a whooping cough infection had been present.
The lorry, which was carrying Tarmac, went over Mr Reed's people carrier, through a hedge, up a bank and ended up 330ft (100m) away on the golf course, the inquest heard.
'Peace and quiet'
Mr Davis told the inquest: "I had the radio on, I was listening to Aha Take On Me and I was tapping my finger.
"I know my speed was increasing so I took my foot off the accelerator... I remember thinking about what was in the fridge for dinner and getting my sandwich."
Mr Davis said he then began to cough for what he guessed to be "about six seconds" before he passed out.
He said: "I got out of the lorry, I was dazed, I didn't know what had happened.
"I had a pain in my stomach where I had hit the steering wheel. I wanted to lie down."
Mrs Reed, of Houghton-le-Spring, died from her injuries at the James Cook University Hospital, Middlesbrough.
Mr Reed, who was driving the car, and Natalie and Destiny, from Fencehouses, died at the scene.
Coroner Mr Tweddle said: "It really was one of the most tragic situations of being in the wrong place at exactly the wrong time."
When asked by if there was anything he would like to add, Mr Davis, who is married with two sons, told the inquest: "A lot of things, but I can't.
"Just that my heart goes out to them."
Outside the hearing, Julie Duggan, whose son Sean was Natalie's partner and Destiny's father, said the family were "devastated" after what had happened.
She added: "They can grieve but they cannot move on.
"They were a lovely family. Margaret was a great person and Bobby was too.
"Natalie was so loveable and Destiny was absolutely gorgeous. She was beautiful.
"I don't know how he can live with himself."
Temporary Chief Inspector Ed Turner said after the hearing: "This is a very rare occurrence and it would appear the gentleman had very little opportunity to respond."