Firefighters tackle Northumberland warehouse blaze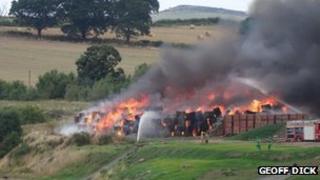 About 40 firefighters are tackling a blaze at a warehouse in Northumberland.
The fire, involving large bales of shredded carpet, broke out at a large warehouse in Thrunton, at about 09:40 BST.
Fire crews are now working to contain the fire and drains at the site have been blocked to prevent contamination of a nearby lake.
Northumberland Fire and Rescue said it was also protecting nearby buildings from a possible acetylene risk.