Grace Darling sea rescue marked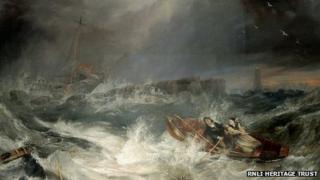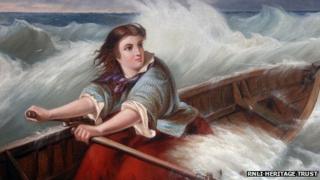 The anniversary of a sea rescue by an "inspirational" Victorian heroine is being marked in Northumberland.
Grace Darling was aged 22 when she rowed out in a storm with her father to help survivors of the SS Forfarshire, wrecked off the Farne Islands.
Her role in the rescue, on 7 September 1838, was picked up by the press, and she became a national celebrity.
To mark the anniversary, a restored lifeboat will row out to the scene and a wreath will be laid at sea.
'Bravery epitomised'
In the aftermath of the rescue, what caught the public imagination was that Grace Darling was a young woman.
However, women have long played a vital role in sea rescues, although it was only in 1967 that one became an RNLI lifeboat crew member.
Before that, and from the RNLI's formation in 1824, women acted as shore crew to launch and recover lifeboats and were the backbone of fundraising guilds.
Now 8% of the 4,600 volunteer crew are women, and more than 20 have been awarded gallantry medals, as Grace Darling was.
The lighthouse-keeper's daughter was the seventh of nine children, and the family lived first in the Brownsman and then the Longstone lighthouses on the Farne Islands.
She learned to row at an early age, and became her father's assistant.
On the morning of the disaster she spotted the SS Forfarshire wrecked on the Harcar Rock, and through the telescope saw that people were stranded.
Her father thought the sea was too rough for the lifeboat from Seahouses to set out, but since he knew the rocks and tides, he set off in his coble with his daughter.
After an arduous and dangerous journey they reached the survivors, and Grace held the heavy boat steady while they were brought on board.
Her part in the rescue inspired paintings, poems and books, and a rose was named after her.
Despite her celebrity she remained in Northumberland, where she died of tuberculosis at the age of only 26.
Virginia Mayes-Wright, manager of the RNLI Grace Darling Museum, said: "Grace epitomises the bravery and selflessness of volunteer lifeboat crews of today."
Ian Clayton, RNLI Seahouses volunteer, said: "Grace Darling is a true inspiration to our volunteer crews."
As part of the anniversary celebrations, 12 volunteers from the Seahouses station are rowing a restored 100-year-old former lifeboat, the William Riley, to the scene of the rescue, and will be laying a commemorative wreath out at sea.
Back on shore, a family fun day is being held at Seahouses Harbour, and at 14:30 BST - to coincide with the wreath ceremony - people will be invited to take a moment to stop and reflect on events of 175 years ago.