Battle of Flodden burial excavation work begins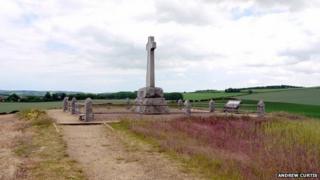 Excavation work to find the remains of thousands of bodies buried on the Flodden battlefield in Northumberland has begun.
The Battle of Flodden between the English and Scots at Branxton on 9 September 1513 left almost 14,000 people, including King James IV, dead.
Volunteers are taking part in a project to help locate and protect the remains of those killed.
It is hoped the findings can be used to declare the burials as war graves.
The work will target the sites of body pits identified in the late 19th and early 20th Century when work was carried out to lay water and drainage pipes.
'Last resting places'
The location and the state of preservation of each of the remains will be recorded in the hope government agencies such as English Heritage can protect the remains in the future.
Project manger Christopher Burgess said: "We are acutely aware that these are war graves and will be treating any remains found with the utmost respect.
"There is an overriding aim to locate these body pits so that the last resting places of some of the dead of both nations who fell on Flodden Field 500 years ago can be protected."
The two-week project, carried out by the Flodden 1513 project and Archaeological Practice Ltd, runs until 12 September.
There were an estimated 10,000 Scottish deaths in the battle, including the king and members of almost every noble family. About 4,000 English soldiers also lost their lives.
Several events are being held by communities from both sides of the border to mark the 500th anniversary of the battle on 9 September.