Newcastle Discovery Museum natural history collection revealed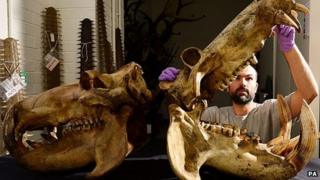 Rarely seen gems of the natural world could soon be opened up to the public.
From hippo skulls to extinct birds and poison spears, the Natural History Society of Northumbria's collection boasts more then 500,000 items.
The collection, dating back to the 18th Century, is stored under the Discovery Museum in Newcastle.
Staff are considering opening up the collection during the lengthy process of cataloguing items, many considered priceless because of their rarity.
Dan Gordon, Keeper of Biology at Tyne and Wear Archives and Museums, said: "The oldest parts of the collection date from the 18th Century and were the private collection of a local aristocrat called Marmaduke Tunstall.
"Over the years it was passed on and came into the possession of a local society and it's important for a number of reasons, one being the very old and valuable items.
"We have records for half a million objects, but there may well be more, and cataloguing them all is a lifetime's work.
"We are still discovering new things in the collection."
Rare great auk
One of the rarest items is a juvenile great auk, a flightless bird that is now extinct, but which was once commonplace in Great Britain.
Mr Gordon said: "The great auk is one of the oldest objects and it dates back to the 1750s. There are very few of these still in existence and most of them are adults.
"Most of the preserved ones out there came from the time when they were already rare, but our one is a juvenile.
"It's either the only one in the world, or one of two, but it's definitely the youngest."
Staff at the museum hope to offer tours to the public so they can be shown around the underground collection.