Northumberland attack victim releases injury photo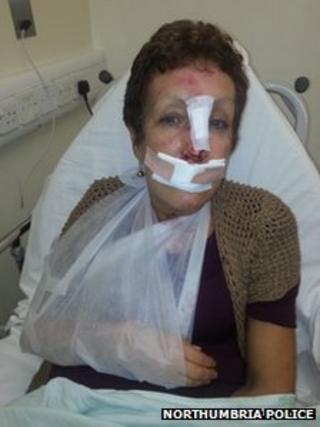 A terminally ill woman "callously" attacked near her Northumberland home has released a photograph of her injuries in a bid to find her attacker.
Marilyn Massie, 63, was pushed face first to the ground on Chestnut Street, Ashington, at about 23:00 BST on Sunday by a young man riding a bike.
She suffered "extensive" facial cuts, bruising and a broken wrist and nose, and her handbag was stolen.
Ms Massie, who has lung cancer, said the man "really made a mess" of her.
"I got the shock of my life," she said.
"At the beginning I was feeling sorry for myself when I was down at the hospital, but since then I've been saying to myself 'he's not going to get the better of me'.
"If I saw him I would give him a piece of my mind.
"How would he like this happening to his mother or his gran?"
The man is described as in his late teens or early 20s, with dark hair and a slim build.
He rode off with her handbag containing about £15 and her mobile phone.
Det Sgt Tracey Moore said it was a "callous and cowardly" attack on a "vulnerable woman".