Brandon house explosion after 'portable gas heater leak'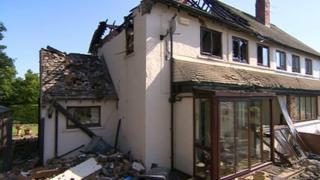 A leak from portable gas heating equipment has been discovered by the team investigating an explosion which killed a man at a County Durham house.
The 52-year-old, named locally as Stuart Taylor, died in the blast in Moor Edge, Brandon on Sunday evening.
His older brother, Trevor Taylor, was rescued by local residents.
Neighbour Sheila Coates said: "In the panic, he's got sliding doors on his patio but he was beating on them to try and get out."
"My daughter said the noise was horrendous, it was just like a jet engine," she added.
The explosion blew out windows and part of the roof.
Trevor Taylor, 66, was taken to hospital.
Durham and Darlington Fire and Rescue Service said initial findings found a leak from the portable gas heater.
It said a joint investigation with Durham Police was continuing but the force is not treating the explosion as suspicious.
A fire service spokeswoman said: "We don't know the cause of the ignition or whether there was anything wrong with the heater."