City of Adelaide clipper ship export ban sought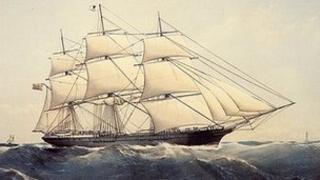 Campaigners are to seek an export ban on a Sunderland-built clipper ship which is due to be moved to Australia.
The City of Adelaide was built on the River Wear in 1864, but has lain on a Scottish slipway since 1992.
A consortium in Adelaide has announced the 149-year-old vessel will leave for Australia next month.
But the Sunderland City of Adelaide Recovery Fund (Scarf) is to seek a ban on the ship's export, claiming it is of national cultural interest.
In 2010 the Clipper Ship City of Adelaide Ltd (CSCOAL) in Australia beat Scarf in a competition to turn the Grade A listed vessel into a tourist attraction.
The ship's owners, the Scottish Maritime Museum and Historic Scotland, supported the vessel's export to Australia, dismissing plans by Scarf to move the ship to Wearside as "not technically feasible or properly costed".
'Determined and confident'
CSCOAL director Peter Christopher said the ship - also known as the SV Carrick - would be berthed alongside the Cutty Sark in Greenwich for a time before making the 13,600 mile (22,000km) journey to Port Adelaide.
He said: "We have had great support from the Australian and Scottish governments and local councils.
"Once she is safely in South Australia we will be establishing her as the flagship of a non-profit Seaport Village in Port Adelaide."
But Peter Maddison, from Scarf said: "We are determined and confident we can prevent the export of this fabulous vessel, which is of such historic importance to Britain.
"We will be seeking an immediate moratorium on the ship's movements and are hopeful there will be a satisfactory outcome to our many years of campaigning."
Mr Maddison said Scarf would ask the Reviewing Committee on the Export of Works of Art and Objects of Cultural Interest, to intervene.
The vessel is five years older than the Cutty Sark and voyaged annually from London to Adelaide with passengers and a cargo of wool.
Her sailing days ended in 1893 and she was eventually sold to the Royal Naval Volunteer Reserve on the River Clyde in Scotland.
The ship is due to arrive in Australia next spring and will make the journey in a specially-built cradle which will sit atop a barge.