Seaton Delaval Hall gets cash 'lifeline'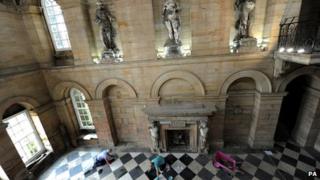 A cash grant of almost £500,000 has been hailed as a "lifeline" for a stately home in Northumberland.
The Grade I-listed Seaton Delaval Hall was bought by the National Trust following a public appeal in 2008.
An award of £496,000 from the SITA Heritage Trust will be used to repair its central hall that was damaged in a fire almost 200 years ago.
Its current state as a crumbling shell means it risks being officially condemned within the next 12 months.
The hall was one of three finalists whittled down from 12 potential projects invited to compete for the SITA Trust money.
Rapidly deteriorating
Work will start at the end of September to stabilise the building, restore the floor and preserve six life-size statues representing the arts.
Cheryl Moore, from the National Trust, said without the funding it would not have been possible to keep the central hall open.
"The building is deteriorating at a rapid rate," she said.
"In high winds last November we lost a couple of windows, masonry is falling and the cellars are regularly flooded because of gaps in the stonework.
"The money has come at the right time as other funds had run out."
The National Trust has already spent £2m on conservation work, rewiring, fire and security systems, preserving internal masonry, reroofing and upgrading facilities.