Holy Island causeway car lights spark rescue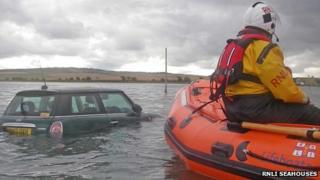 A partially submerged car on a tidal causeway sparked a rescue alert.
The vehicle was spotted off Holy Island, Northumberland, on Wednesday, and when the lights went on it was feared people were trapped inside.
Seahouses RNLI lifeboat was launched, and an RAF rescue helicopter scrambled, but the car was found to be empty.
It transpired that the lights came on because they had been shorted out by the salt water. The car's owner was traced to a pub on the island.
Ian Clayton, from Seahouses RNLI, said: "It is regrettable that these people did not notify the authorities about having to abandon their vehicle, which would have avoided today's rescue alert."
Following a spate of strandings on the causeway, which is completely covered during high tide, warning signs have been installed on either side.