Northumberland coast dinghy search operation called off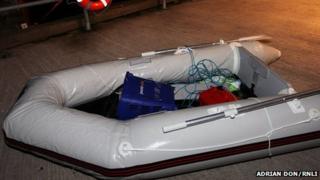 A major search prompted after an empty dinghy was found off the Northumberland coast has been called off.
The 6.5ft (2m) craft was spotted drifting 15 miles (24km) out to sea by a Dutch vessel at 19:00 BST on Monday.
An extensive search by the coastguard, RNLI lifeboats, and an RAF rescue helicopter yielded no results, and was called off just before midnight.
The coastguard said it was reviewing the evidence and had yet to decide whether the search would resume.
Fresh fish, personal belongings and radio equipment were found on the dinghy, indicating someone had been on board.
'Worst case scenario'
In addition to the operation out at sea, land-based teams from the Tynemouth and South Shields Volunteer Life Brigades searched for locations from where the boat had been launched or drifted from, such as a car and trailer near a slipway or beach.
Adrian Don, from Tynemouth RNLI lifeboat station, said: "You have to assume the worst case scenario, that someone had fallen off this vessel.
"The search was very, very extensive, and to be honest there would be very little hope of finding anyone now."
He added: 'If anyone has any information at all regarding the dinghy they are asked to contact Humber Coastguard or their local police."