Fridge-carrying runner on 'impossible journey' down UK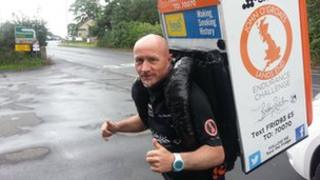 A man running the length of the country with a fridge on his back has travelled through his home city of Newcastle.
Tony Phoenix-Morrison, from Hebburn, is running 40 marathons in 40 days from John O'Groats to Land's End carrying the 40kg fridge.
The 49-year-old is raising money for the Sir Bobby Robson Foundation for cancer research.
"Getting over the hills of Carter Bar and dropping down into Northumberland was very emotional," he said.
"If you can imagine if you had an impossible journey in front of you, the only thing you can really think about is your next step.
"Because of the magnitude of the journey, to think about that distance, would crush you."
"Tony the Fridge", as he is known, first ran with a fridge in the 2011 Great North Run in an attempt to boost sponsorship.
Having run the half-marathon 15 times before, he said he would not raise much money if "I just ran it, because everyone knows I can run it".