Whitley Bay residents win street garden battle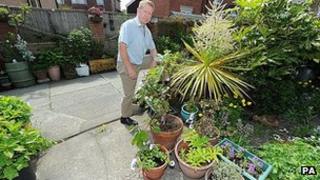 Community gardeners in North Tyneside are claiming victory after council bosses reversed plans to remove a street full of award-winning blooms.
Residents in Rockcliffe Avenue, Whitley Bay, spent thousands of pounds sprucing up the pedestrianised street.
But North Tyneside Council said the display was a likely safety risk - despite it awarding residents two In Bloom awards in as many years.
Now the council has backtracked, urging other residents to follow suit.
'Big black cloud'
Resident Mike Kelley, who set up a petition against the threat, said: "It was definitely worth the battle. Everyone in the street is over the moon.
"Locally, we are seeing planters going up elsewhere and residents in other streets obviously feel comfortable. We could turn Whitley Bay into a flower haven, which is fantastic.
"The big black cloud has lifted and everyone is happy again."
A council spokeswoman said: "We are delighted that the residents of Rockcliffe Avenue are one of the 15 first prize winners in our North Tyneside In Bloom competition.
"In recognition that the colourful pots were well established the council agreed that the current pots would not be removed, while a new scheme was confirmed to meet highway access requirements.
"This new scheme will allow the council to ensure a two-metre clear footpath is retained along the length of the street to keep the highway safe for pedestrians, including those with mobility needs.
"And it can provide a model for similar community planting schemes should other communities wish to follow the example of Rockcliffe Avenue."