Ferrets Tootsie and Lucky rescued by RNLI lifeboat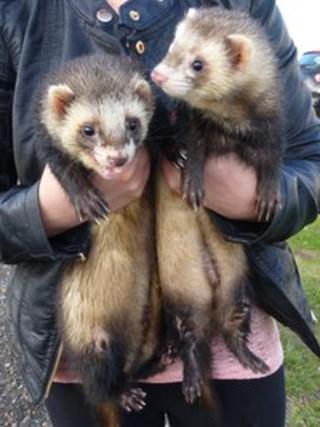 Two young ferrets have been saved from drowning by lifeboat volunteers in Northumberland.
A Newbiggin RNLI spokesman said the animals were "minutes away from drowning by the rapidly rising tide".
They were stuck on rocks in Cambois Bay and their owners could not rescue them.
It was "definitely a first" for the 162-year-old station and "probably the first ferret rescue in lifeboat history", operations manager Pauline Cooksey said.
The lifeboat was diverted from a training exercise after a 999 call to the Humber coastguard.
Crew member Mark Callan said: "The RNLI train us to stay calm in difficult situations and we were able to calm the anxious owners and this probably helped pacify Tootsie and Lucky."