Sir Alan Beith MP to step down after 40 years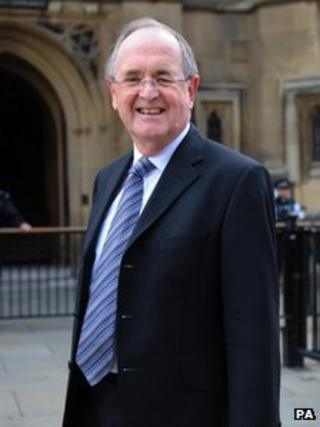 Veteran Liberal Democrat MP Sir Alan Beith has announced he will step down at the next election.
Sir Alan, who was elected in a 1973 by-election as MP for Berwick-upon-Tweed, Northumberland, is the longest-serving Liberal since David Lloyd George.
The 70-year-old politician said he would carry on until 2015 and would continue to be very active until then.
Deputy Prime Minister and Liberal Democrat Leader Nick Clegg said he had been a "huge figure" in politics.
Sir Alan is a former chief whip of the Liberal Party and a former deputy leader of the Liberal Party and the Liberal Democrats.
In 1988 he stood unsuccessfully against Paddy Ashdown for leadership of the party.
Sir Alan was knighted in the Queen's Birthday Honours in 2008.
'Enormous wisdom'
Mr Clegg said: "The present generation of political leaders in Britain were barely out of nursery when Alan Beith was first making his mark on the floor of the House of Commons.
"So it is little wonder that when Sir Alan speaks today, he commands the attention of all parties in Westminster.
"Sir Alan has held and excelled at pretty much every key role in the Liberals and Liberal Democrats - from chief whip to deputy leader and from home affairs spokesman to now chair of both the Justice Select Committee and the Liaison Committee.
"Speaking personally, I have learned to trust and rely on Alan's enormous wisdom and to greatly admire his passionate commitment to his Berwick-upon-Tweed constituency and to the North East, which shines through in everything he does."
Sir Alan said: "I intend to continue to be a very active MP over the next two years and look forward to working closely with a candidate for 2015 who will be chosen by all the members of the Berwick constituency's Liberal Democrat Association."
A series of events will be held later this year to celebrate his 40 years as a Northumberland MP.