Tommy the Trumpeter hangs up his hat after 25 years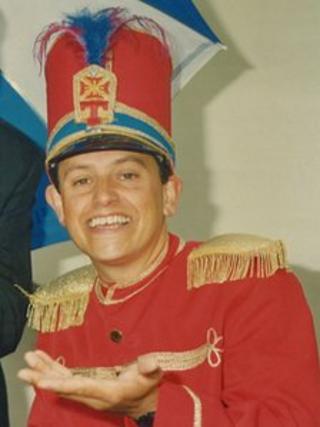 He has entertained crowds at a seaside town in the north-east of England for 25 years.
A familiar face for families in South Shields and from as far away as the US and Italy, Tommy the Trumpeter is now hanging up his hat and retiring.
Ray Spencer fell into the role of playing Tommy after South Tyneside Council called him when he was working as a performing arts lecturer.
"The council asked if I would mind doing the first couple of weekends and suddenly 25 summers had gone," he said.
The idea behind Tommy the Trumpeter was to provide a mascot for the town's summer festival.
Originally intended to be called Tommy the Tuba, it was a mistake by the council's press office that led to him being called Tommy the Trumpeter.
Donning a red, blue and gold uniform, the character has attracted crowds young and old to the town's amphitheatre for a quarter of a century.
"I have had eight costumes and needless to say none of them are smaller than the previous one.
"It's a prompt to retire when someone asks if they can have their photo taken with you who came down as a four-year-old 25 years ago and is now bringing their five-year-old," he said.
Over the years, people from South Shields and other parts of the world have grown up with Tommy as each year they look forward to fancy dress parties, getting soaked in water and even being gunged.
'Life goes on'
The format of the parties has remained the same since the 1980s with games like Betty Bought Bob becoming an "integral" part of the event.
He said: "The parties have been magic, absolutely lovely.
"They happened as they do now, but I think at the first party none of us really knew what we were doing.
"I still get nervous, particularly at the start of the season when I look out the window at the weather - I have this absolute fear that I go down to the amphitheatre and there is nobody there."
As well as entertaining kids during the summer holidays, Tommy has also made appearances at schools, turned on Christmas lights and visited care homes.
"What has made it special for me is the families that have approached me and asked me to help stop their kids from using their dummy or to visit their children in hospital," he said.
Mr Spencer, from South Shields, is executive director of the Customs House arts centre and was awarded an MBE for services to the arts in the North East in 2010.
The 56-year-old said he is looking forward to a summer holiday with wife Trish and their four children when he retires.
Looking ahead to who might replace him, he said: "A bit of me hopes that it's not Tommy number two, I hope they have a new name... but life goes on without me so I hope that someone takes up the baton and I hope they have as good a time as I have.
"He is what he is and I've had a jolly good time being him. He's become a legend to the end of the street... a wise-cracking jovial uncle."
The final Tommy's Party is being held on 22 August.
Mr Spencer said: "It always amazes me how the families take him to their hearts.
"I am incredibly lucky to have been able to be Tommy the Trumpeter, he's been hugely kind to me.
"There is absolutely going to be tears."