No legal challenge to King's and Priory schools merger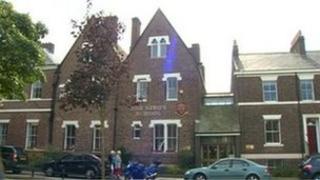 An academy created by the merger of two schools will open after councillors voted against a legal challenge.
Education Secretary Michael Gove approved the plan to join state-funded Priory Primary School and independent The King's School, in Tynemouth.
North Tyneside Council opposed the merger over fears of the knock-on effect on other schools.
But it voted "reluctantly" not to pursue a judicial review to prevent further uncertainty for families.
The cabinet made the decision at an extraordinary meeting, saying if it proceeded with legal action it would cause disruption, upset and uncertainty for parents and pupils.
But it said it remained critical of Mr Gove's stance and the speed of the process, saying it was "astounded at the illogical explanations he has given for his decision".
In a letter when the merger was approved, the Department for Education said it believed the reduction in pupil numbers at other local schools would be "moderate", temporary and outweighed by the benefits of the merger and the additional choice it would provide parents.
Anxiety removed
Cabinet member for children, young people and learning, Ian Grayson, said: "Because of the time involved, the potential disruption and the concerns and worries, we have decided not to proceed."
But he said there would be an impact on other schools in the area and there was now more urgency to address the issue of surplus places.
Priory Primary parent governor Debbie Cottrell said they were "relieved" and "delighted".
"The anxiety and the distress can move away now," she said.
She said she believed the new school would bring the best from both schools and that Priory could not have sustained its record if it had continued to be under-resourced.
The academy will be for pupils aged four to 18 and will be run by The Woodard Academies Trust.