Tyne and Wear Metro: Longest line closure in 30 years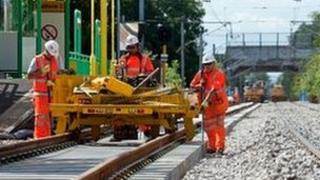 Passengers on the Tyne and Wear Metro face a month of delays as work begins on the largest line upgrade in more than 30 years.
Services on the line between Haymarket station in Newcastle, the city's airport and Four Lane Ends will be suspended from Sunday until 30 August.
The work is part of a £385m network upgrade and is the longest line closure since the Metro opened in 1980.
Passengers will have to use special buses during the 27-day closure.
The 900 bus service will run between Haymarket and Four Lane Ends, and service 901 will run between Haymarket and the airport, calling at all Metro stations on the route.
Bernard Garner, director general of Nexus, which owns and manages the network, said: "Closing a Metro line for 27 days is a difficult decision, but it is vital so that we can replace a key section of track in as short a time as possible."
Richard McLean, managing director at DB Regio Tyne and Wear, which operates the network, said: "We aim to do everything we can to keep the region moving during the line closure and to minimise disruption to passengers."
The closure will see almost four miles of track replaced and stations revamped on a section of line that sees 30,000 passenger journeys each day, 450 train movements and a service every three minutes in peak periods.