PC David Rathband charity hit by donations slump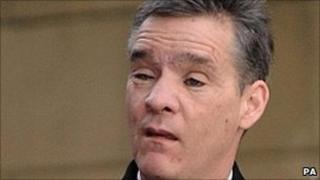 A charity set up by the police officer shot by gunman Raoul Moat will not meet its target of raising £1m by October, trustees have admitted.
In July 2010, the Northumbria PC was shot twice by Moat as he sat in his patrol car in Newcastle.
Three months later he set up the Blue Lamp Foundation, with the aim of raising £1m by October 2013 for injured members of the emergency services.
But trustees said donations had slumped because of the economic downturn.
PC Rathband, who was blinded in the shooting, was found hanged at his home in Blyth, Northumberland, in March last year. A resumed inquest is yet to take place.
When he set up the charity, Pc Rathband said the stated aim was to raise £1m in the first three years.
Running costs
So far the charity has raised £400,000, with £180,000 of that coming in the past financial year.
Foundation chairman Peter Sweeney said: "The Blue Lamp Foundation has, like most charities operating in these difficult economic times, seen a drop in donations received and we are realistic in that we won't be able to meet David's £1m target by October 2013.
"The board of trustees is very conscious to keep running costs as low as we can and where possible we apply for grants to cover these running costs.
"Most of those involved with the charity are volunteers who give up their spare time either because they knew David personally or were invited to join the charity. It is impossible however to operate without some paid support.
"The money we have spent on running the charity has enabled us to bring in just under £180,000 in fundraising in our last financial year.
"Every single penny of that money will be used to benefit those who are injured whilst on duty and make a claim to the foundation."
PC Rathband was hailed for his charity work and took part in a number of fundraising events including the 2011 London Marathon.