Sting backs Tynemouth Outdoor Pool restoration plan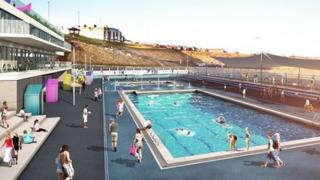 The singer-songwriter Sting has given his backing to a Tyneside community group's bid to restore a lido to its former glory.
Tynemouth Outdoor Pool was once a popular tourist attraction, but following its closure in the 1990s the site became derelict.
Campaigners hoping to bring it back as a swimming pool have submitted a business plan to the council.
Originally from nearby Wallsend, Sting has pledged a financial contribution.
A group of volunteers, the Friends of Tynemouth Outdoor Pool, has been given an additional year by North Tyneside Council to hone its proposals.
'Raise profile'
Along with the pool, the plans include a cafe and community space which could be used by schools.
The group is raising funds and hoping to gain charitable status.
Barry Bell, a founding member, said: "When you discover that Sting is passionate about backing a project like this, you know that it definitely has a future.
"Not only did he provide us with the initial donation we needed to gain charity status, but his support alone will help us raise the profile of this project immensely.
"And because our supporters, wherever they are in the world, also now have the chance to back the project financially, we're hoping to increase the fantastic sense of ownership that the community already has when it comes to the pool and its future."