Chloe Fowler funeral takes place in Sunderland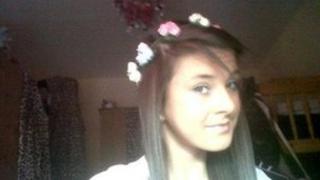 Family and friends of a "popular and bubbly" teenager who drowned in the River Wear have gathered for her funeral in Sunderland.
Chloe Fowler, 14, from Shiny Row, got into difficulty near a viaduct in Fatfield, Washington, on 23 July.
Her friend Tonibeth Purvis, 15, from Barmston, also died.
Chloe's mother, father, four sisters and three brothers led mourners at Sunderland Crematorium. Tonibeth's funeral is due to take place on Friday.
A number of Chloe's friends from Oxclose Community Academy were at the service after some had taken part in a charity walk to raise funds for the funeral.
More than 100 emergency services staff and members of the public were involved in the search for the pair on the night they died.
Northumbria Police said Tonibeth had gone in the river in an attempt to save her friend.