Fracking row peer Lord Howell to visit North East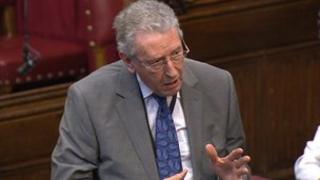 The Conservative peer who apologised for saying fracking should take place in the "desolate" North East has accepted an invitation to visit the region.
Lord Howell's remarks caused outrage on Tuesday and led Wansbeck MP Ian Lavery to invite him to the area.
The peer said he would "try to fit in a visit".
His comments prompted Twitter users to use the hashtag "desolate" alongside photos of the region's beauty spots.
Lord Howell of Guildford, who is Chancellor George Osborne's father-in-law, said the fracturing drilling technique should take place in the North East because there were large uninhabited areas.
He later apologised for any offence.
'Southern bigotry'
Several invitations to the visit the region have been made and the peer said he was already due in Durham in October.
A letter signed by Kate Priestley, chair of Northumberland Tourism, said: "On behalf of the Northumberland tourism industry, I would like to extend an invitation to Lord Howell to visit our beautiful county.
"I have no doubt that following his visit, he too would be loathe to recommend any action which would damage this little known jewel in England's crown."
Ronnie Campbell, MP for Blyth Valley, said: "I am proud of the North East, its natural beauty and the generous spirit of its people. Nevertheless, such southern bigotry stretches that generosity to breaking point."