Policeman killer Paul Weddle wins rehabilitation ruling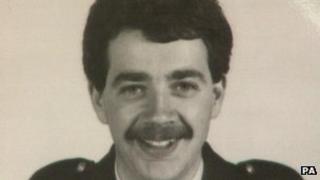 The convicted killer of a Tyneside policeman has won a High Court case in which he claimed not enough is being done to aid his rehabilitation.
Paul Weddle was jailed for a minimum of 25 years in 1994 for stabbing Sgt Bill Forth to death in Gateshead.
His lawyers argued he is being denied access to courses which could show he is a reduced risk to society because he claims not to remember the murder.
The court ruled he be given the chance to prove he was now a lower risk.
Weddle brought a claim for judicial review against Justice Secretary Chris Grayling, arguing he would not be able to move to a lower category prison or be released on parole until he could show a reduction in the risk he poses.
Lawyers representing Mr Grayling disputed the claim but a judge ruled in Weddle's favour after a hearing in London.
Fence post
The court heard Weddle, from Felling, Gateshead, had taken a cocktail of alcohol and tranquilisers before Sgt Forth, a 34-year-old father-of-two, was called to deal with a domestic dispute on the night of 20 March 1993.
Weddle, then 26, attacked the officer with palings from a fence, before using a knife to inflict multiple stab wounds.
Weddle, who is deemed high risk and is a Category A prisoner at HMP Full Sutton in Yorkshire, has always said he cannot remember anything of the fatal attack.
His lawyers claimed this had "hampered his progress" and left him unable to access certain courses, which could help him show his risk to society had diminished and allow him to be moved to a lower category prison.
After hearing psychological assessments that Weddle's amnesia was "likely to be genuine" and his recollection was highly unlikely to improve, Mr Justice Cranston said "practical steps" must be taken to give him the chance to prove his risk has reduced.
The judge added: "In effect ... until he [Weddle] recalls the murder events, he will not be offered or provided with any offending behaviour interventions to address his extreme violent offending.
"Without such interventions, the claimant will not be able to prove that his risk in that regard has decreased, and will therefore remain a Category A prisoner, with no prospect of release at or shortly after the tariff period.
"Any reliance by the Secretary of State on the possibility that the claimant might regain his memory of these events is irrational in light of the psychologist's report.
"The Secretary of State requires him to address his use of extreme violent offending, but at the same time is effectively withholding the means by which he can do that."