Newcastle United fan paints every player's portrait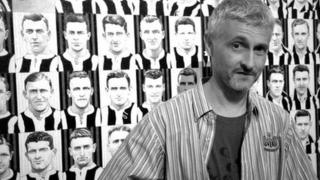 Polish artist Piotr Jozefowicz said he knew his two big passions - Newcastle United and painting - would clash one day.
He has spent nine months painting portraits of every Newcastle United player who has ever appeared in a league match.
Armed with only a brush, black and white paints and a canvas, the 56-year-old artist has painted all of the Magpie greats and lesser-known players who have been part of the club's first team since 1893.
When asked why he would take on such a feat, the artist simply replied, "Why not?".
'Fan power'
Claiming to be part of the Toon Army since childhood, even while living in Gdansk, he said the club was a big part of his life.
He and his historian friend, John Winter, managed to collect pictures of the players from the internet dating back to 1893 for the club's first match against Arsenal.
"I asked people to send me photos I've spotted on web, eBay, etc. and the response was amazing.
"Within six months I had photographs of almost all Newcastle players. That shows a real power of this particular football club - the power of the fans."
The professor at the Academy of Fine Arts in Gdansk was painting 12cm by 18cm portraits at a rate of four per day.
He said: "The pictures are about the heritage and being proud of the club.
"I've sent some of the portraits to the footballer's family members when they asked me for them. One lady said it was the very first opportunity to see her grandfather."
Mr Jozefowicz makes an annual trip across the North Sea to Newcastle to see the Magpies in action at St James' Park.
He said: "I know the place very well. Together with my son we were at the last home match v Arsenal in May."
His enthusiasm for the club is infectious as his wife and son are also international members of the Toon Army.
"I was a Newcastle fan before I met my wife. So, she had no choice. She knows I'm crazy but she supports Newcastle too. She loves me for some reason," he said.