Feed Finder app rates places to breastfeed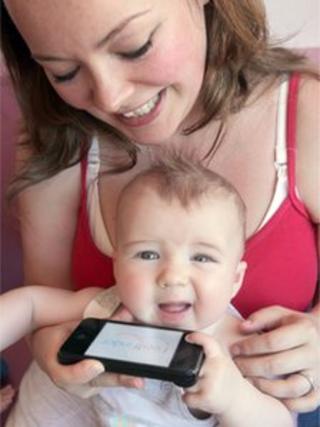 A free app to help new mothers find and rate breastfeeding-friendly places has been developed on Tyneside.
The Newcastle University Feed Finder app will allow people to rate venues such as cafes, restaurants and shops on their attitude towards breastfeeding.
It can be used with one hand on smart phones and aims to make breastfeeding as "easy and enjoyable as possible."
The app was initially designed with the help of 30 mothers who rated public places around Tyne and Wear.
The TripAdvisor-style app allows mothers to give ratings on five key issues - comfort, hygiene, privacy, baby facilities and affordability.
Dr Madeline Balaam created the app with research assistant Selina Sutton, PhD student Andy Garbett and undergraduate Edward Jenkins.
Feeling isolated
Dr Balaam, a computer scientist at Newcastle University with special expertise in interaction design for healthcare, education and wellbeing, came up with the idea while working on a previous project with new mothers learning to breastfeed for the first time.
She said: "The mums I met told me that one of the reasons they were struggling to enjoy breastfeeding was because they found it so isolating.
"First-time mums in particular felt uncomfortable about feeding in public, they didn't know where they could go that would be breastfeeding friendly and were anxious about being out and about and the baby suddenly needing to feed.
"Some said they rarely left the house in those first few months as they tried to juggle frequent feeds.
"The aim of the app was to take away some of that worry so they could continue to get out and meet their friends and do the things they did before baby came along.
"The knock-on effect, we hope, is that it helps women to enjoy breastfeeding and continue breastfeeding for longer."
First-time mother Vicky Smith, who helped the development team, said: "It was so important to me to breastfeed Tom I was determined not to give up.
"I think after a difficult start I would have gone out of my mind if I hadn't been able to get out and see other mums and talk through the highs and lows of being a first-time parent."