Peter McMahon death: Two jailed for freezer body murder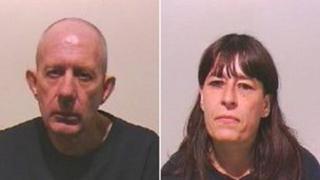 Two people have been jailed for life for the murder of a pensioner whose body they dumped in a chest freezer before plundering his bank account.
Peter McMahon, 68, was found in a flat in Newcastle in December. He had suffered a number of injuries, including gouging to his eyes.
Sharon Swinhoe, 44, was ordered to serve a minimum term of 25 years by the judge at Newcastle Crown Court.
Joseph Collins, 54, was handed a minimum term of 20 years.
Both had denied murder but were found guilty. They were also convicted of perverting the course of justice.
'Sinister and controlling'
Ronald Douglas was jailed for four years after admitting perverting the course of justice. He had helped move Mr McMahon's body.
The 77-year-old, of Gateshead, was cleared of murder.
Mr McMahon was last seen alive on 18 October last year when he took a taxi to the home of Swinhoe, with whom he had been having a relationship.
There he was subjected to a sustained attack in which Swinhoe gouged Mr McMahon's eyes with her finger nails, causing a fatal cardiac arrhythmia.
His body was later moved to Collins's flat in Elswick and stored in a second-hand chest freezer.
The trial heard that the former civil servant was "besotted" with Swinhoe, and the prosecution said she treated him as a "sugar daddy".
Mr Justice Globe described her as a "sinister and controlling" woman who used her "charm" to manipulate men.
He said Swinhoe had shown no remorse.
"You appear to care more about the rats you kept as pets than the man who loved you, asked to marry you and bought you a £1,100 engagement ring", he said.
Following the sentencing, Gerry Sydenham, from the Crown Prosecution Service, said: "It is clear from the evidence in this case that Swinhoe manipulated Peter McMahon in the same way that she manipulated the two men who would later assist her in his murder and the disposal of his body.
"I am pleased with the sentences passed today, and I would hope that they give some measure of comfort to those who knew Peter McMahon at what must be a very difficult time for them."