Footballer Papiss Cisse 'let Muslims down' in casino visit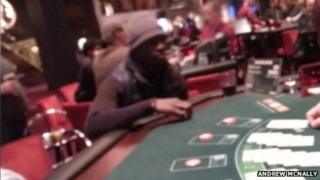 A Newcastle footballer who said the team's sponsor clashed with his Muslim beliefs has been criticised for visiting a casino.
Papiss Cisse has been refusing to wear the loan company Wonga-branded strip.
However, it has now emerged that the Senegal striker was spotted at Aspers Casino in the city in November.
His agent said that he was not a gambler, but a Muslim councillor said Cisse would be letting Muslims down just by visiting a casino.
Newcastle United is currently on a pre-season trip to Portugal, but Cisse pulled out, saying he was not prepared to promote the pay-day loans company, citing his religion, and instead offered to wear an unbranded strip.
Both charging interest on loans and gambling are considered unethical by Muslims.
'Wrong message'
A spokesperson for Aspers Casino described Cisse as "an occasional visitor" who was "very well behaved and very welcome", but would not confirm whether or not he placed any bets.
Madou Diene, the player's agent, said: "Papiss Cisse is not a gambler."
Newcastle city councillor Dipu Ahad has previously defended Cisse's stance on Wonga.
He said: "I feel absolutely ashamed of what he's done, there's not just me there's been other people who've been supporting him.
"But what he's done now, seeing him in the casino, even if he wasn't gambling, I think this gives a wrong message.
"People will say, 'look, this is Islam they can pick and choose whatever they want', and Islam isn't about picking and choosing."