Tyne pedestrian tunnel revamp delayed by asbestos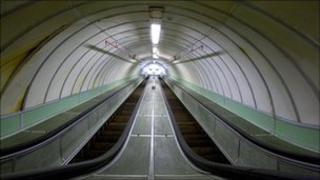 Work on the refurbishment of the Tyne pedestrian and cyclist tunnel will be delayed while asbestos is removed.
The Grade II-listed structure closed in May for the £4.9m, year-long, project.
Engineers were aware of the presence of asbestos in ceiling voids in the rotunda buildings, but it was thought work could take place around it.
Following fears it could be disturbed, specialist contractors have been brought in. It is not yet known how long the process will take.
A shuttle bus will remain in operation during the revamp.
Confined space
Paul Fenwick, project director for the tunnels' owners, the Tyne and Wear Integrated Transport Authority, said: "We were aware of the existence of asbestos and were originally advised that it would be possible to work around it.
"However, our main contractor was concerned that the works themselves and the need to manoeuvre equipment and materials in such a confined space could damage the ceiling and disturb the asbestos.
"I have agreed that the removal of the asbestos by specialist contractors is the best way forward.
"Unfortunately this will mean a delay to the reopening of the tunnels."