Cheviot cattle swap cow-bells for GPS tracking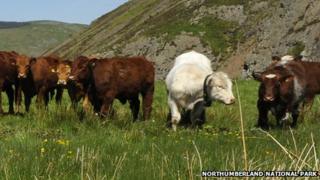 Cattle in Northumberland's Cheviot Hills are to be tracked using Global Positioning System (GPS) technology.
They will wear GPS collars to trace where they go in the hope of finding out why they go there.
The Newcastle University project will look at how their behaviour and grazing affects plants and wildlife, working out what they do by how they move.
Dr Richard Bevan said it would give a "unique insight" into how cattle use and affect the area.
It will be the first time these animals have been in the College Valley estate in the Northumberland National Park, which is a site of special scientific interest (SSSI).
They will have to explore the area to find food, water and shelter.
A park authority spokesman said: "Tracking animals, even something as large as a cow, can be very challenging in remote locations, especially during the night or in periods of bad weather, so remote positioning is very useful."
Information will be stored on the collar and accessed via satellite link to a computer.
Tracy Hall, project officer for Cheviot Futures, said: "The way the cattle use the grazing area available to them, and how they behave in different weather conditions, will provide information relevant to livestock producers seeking to make efforts to increase their resilience to the effects of climate change."