Under-threat Gateshead Bill Quay Farm saved from axe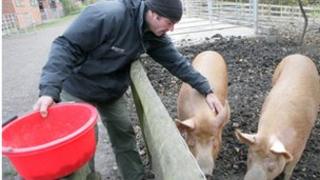 A Gateshead community farm under threat of closure has been saved.
Bill Quay Farm costs £170,000 to run a year and Gateshead Council, which is facing budget cuts of £76m, said it could no longer afford the cost.
The farm was due to shut in July, but will now stay open after the council agreed a peppercorn rent.
To save costs further, the farm's opening hours will also be reduced from five to three a day and three staff will be made redundant.
Responsibility to run the farm, in Pelaw, has now been transferred from the council to the Bill Quay Community Farm Association.
'Borne fruit'
The council has also agreed to pay £45,000 over the next five years to maintain the farm's buildings.
Councillor Linda Green, cabinet member for culture, said: "The government's well-publicised cuts in funding for local councils has left us with £76m less than we need - we have been compelled to make some deep and challenging cuts.
"We have always recognised the value of the farm to the community and were extremely reluctant to simply close it.
"That's why we have worked hard to find a way for it to operate without support from the council.
"No-one is happier than me that our efforts have finally borne fruit and the farm has been saved."
The 25-acre site, which opened in 1986, also runs animal husbandry and horticultural courses.