Foghorn Requiem: Souter Lighthouse hosts sea performance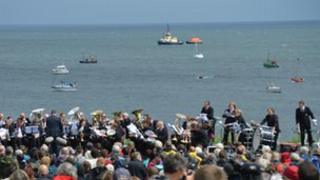 The foghorn at a Tyneside lighthouse has joined those on ships out at sea and brass bands on shore for an unique musical performance.
Souter Lighthouse in South Shields was the focal point for the Foghorn Requiem, specially composed to mark the demise of the warning signal.
Part of the Festival of the North East, the work was said to be the first musical score created for foghorns.
"Ground-breaking" technology allowed the horns to be "conducted" from shore.
The vessels at sea followed a musical score that took into account the weather, the surrounding landscape and their distance from the shore.
The requiem was devised by artists Lise Autogena and Joshua Portway, with the score written by British composer Orlando Gough.
Mr Gough wrote music for the Thames Diamond Jubilee Pageant.
It was commissioned by South Tyneside Council and the National Trust, which took over the running of Souter following its decommissioning in 1988.
Opened in 1871, it was the first lighthouse in the world designed and built to be powered by electricity.
Its foghorn was kept in working condition by a dedicated team of local volunteers.
When the requiem performance was announced, deputy leader of South Tyneside Council Alan Kerr said the Souter foghorn had been an important part of the area's history and called the project "a fitting tribute to it".