Hexham River Hydro scheme shelved due to cost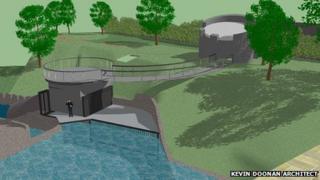 A community scheme to generate electricity from a Northumberland river has been shelved due to soaring costs.
The Hexham River Hydro project planned to channel the flow of water to a turbine driven by an Archimedes' screw.
Detailed design studies have now shown it would cost about £2.5m, more than double the initial estimate.
Volunteers said the level of financial risk compared to forecasted return meant it could not proceed as a standalone community project.
The joint initiative by Hexham Community Partnership and Transition Tynedale would have generated enough power for about 150 homes.
'Huge benefits'
There are now hopes a company or organisation will come forward to take it on.
Part of the rise in estimated cost was due to the civil engineering challenges, and the structural state of the weir and fish pass on the site.
Bob Hull, chair of Hexham Community Partnership, said: "The decision which has been taken is a matter of considerable regret to the team of volunteers who have devoted considerable time and effort to developing a project which potentially could bring huge benefits to the community in Hexham.
"It has become clear however that the scale of the works needed to ensure a fairly simple hydro scheme is installed involves additional engineering of a magnitude which far exceeds the budgetary capacity of the local community."
He added: "This is not necessarily the end of hydro power at this location.
"If, as a result of this announcement, individuals, companies or organisations come forward to offer low or no cost financial investment, this could have a positive impact on the balance of risk and reward."