Dual carriageway call for A1 in Northumberland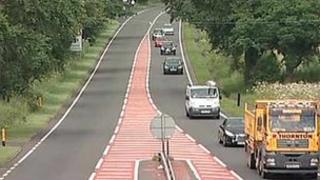 Businesses in the north east of England have called on the UK government to upgrade the A1 north of Newcastle.
Apart from a few short stretches, the majority of the route to Scotland is currently single carriageway.
The North East Chamber of Commerce (NECC) has said that upgrading it to a dual carriageway would provide an economic boost to the region.
It has urged Chancellor George Osborne to give priority to the project in his upcoming spending review.
Dave Douglas, chairman of NECC's Northumberland committee, said: "The economic case has been made for dualling this important arterial route, which would greatly ease connectivity between the North East and Scotland.
"It would also open up potentially lucrative new markets on our own doorstep."