Chick joy for Kielder osprey colony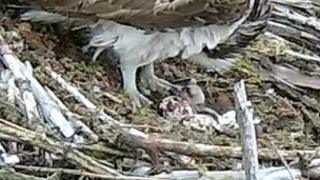 Two chicks have hatched at an osprey colony in Northumberland.
The birds of prey were re-introduced to Kielder Water and Forest Park four years ago, after an absence of more than 200 years.
Two nests have since been established and volunteers say some of the same birds have returned, although a new male moved into one nest last year.
The Forestry Commission, which manages the site, has installed a webcam so the public can view the birds' progress.
In 2012 poor weather was blamed for the death of three of the six chicks at the site.