Newcastle Council considers midnight booze charge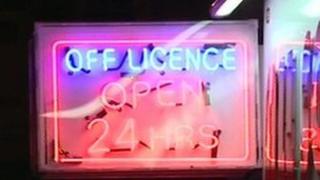 A cash-strapped North East council is considering charging pubs and clubs for selling alcohol after midnight.
Newcastle City Council wants to introduce the late night levy on licensed premises and estimates it will raise £400,000 a year amid budget cuts.
Most of the money - 70% - would go to the police to help tackle problem drinking and disorder and the council would get 30%.
But licensees have hit back at the plan saying trading is already difficult.
The council needs to trim £100m from its budget over the next three years.
Ian Taylor, general manager of the Head of Steam pub in Newcastle, said: "It's not a case of being able to afford the levy - it becomes unprofitable because the majority of our trade is in the late night economy. We couldn't sustain the business."
'Already pay'
He said licensees were being asked to pay for alcohol-related problems which he believed were being created by retailers selling alcohol at knock-down prices.
"The late night levy, as we and other operators see it, is an extra cost on our rates, on our business rates, which we already pay.
"We are potentially being forced to pay more for something which is not a pub operators' issue," Mr Taylor added.
But Stephen Savage, director of regulatory services for the council, said: "The licensees probably don't understand that all the business rates they pay in the city centre are not necessarily returned to the council.
"We've had massive budget reductions and our aim is to use that money to improve the environment and to maintain it.
"There are still many people who want to invest in this city because of its reputation of being safe. We want to use this money to maintain that."
'Spent in Newcastle'
Vera Baird, Northumbria's Police and Crime Commissioner, said: "There is a bit of a peak, as you would predict really, in the hours after midnight of some alcohol-related offending and we want to tackle that."
Ms Baird also said she could "absolutely guarantee" any money raised in Newcastle would be spent there and not elsewhere in the Northumbria police force area.
All councils have been given the powers by central government to introduce a levy, although it has not as yet been introduced in any cities.
Other authorities apart from Newcastle are considering the levy including York City Council.
Durham County Council said its licensing committee might look at a levy in future but it had no immediate plans to introduce one.