Suffragette Emily Davison's scarf on show in Morpeth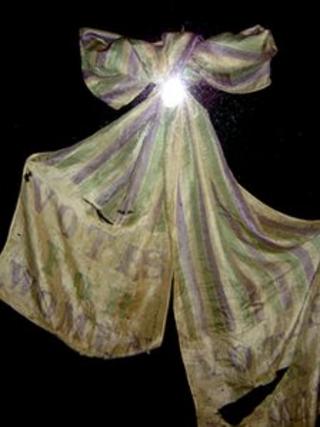 The suffragette scarf Emily Davison was carrying when she was killed stepping in front of the king's horse at the 1913 Epsom Derby is going on show.
Morpeth is hosting an exhibition featuring the artefact, to mark the centenary of her death.
Normally displayed in the House of Commons, it is thought Davison hoped to put the scarf round the king's horse, in the votes-for-women campaign.
It was found close to her fallen body by the course clerk.
That man, Richard Burton, is later said to have wrapped his two-year-old daughter in it when they viewed Davison's funeral procession in London.
Davison's coffin was later brought by train to Northumberland for burial in the family plot, but the scarf had been put away by Mr Burton, along with a letter he obtained from a solicitor explaining how it came into his possession.
Auction sale
It was not until the 1990s that it resurfaced, when his daughter needed to sell something to pay for nursing home fees.
And now it is the centrepiece of a series of events in Morpeth to mark Davison's contribution to the history of the struggle for women's rights.
Mr Burton's daughter decided to auction it at Sotheby's in 1997 - a time when there was such little interest in Davison, the lot attracted just two bidders. The Jockey Club was one, the other was Barbara Gorna, whose highest bid secured it.
Ms Gorna, a film-maker, writer and political campaigner, said: "While standing as a Conservative candidate in the 1997 general election I was giving a speech at a Manchester golf club and they told me I couldn't go into the men's bar.
"The same thing happened at the Carlton. I though this was outrageous.
"At around the same time, by coincidence, I read an article about Emily Davison which implied she threw herself under the horse in a suicidal act.
"I didn't think this sounded right, so did some research of my own.
"I went to the archive's office, looked at the film clip and thought 'this woman wasn't chucking herself anywhere'.
"Another coincidence, or maybe fate dropping into my lap, was that the scarf then came up for sale in Sotheby's.
"I thought 'I'm going to have this', although I was not quite sure what to do with it."
Olympic trip
Ms Gorna, whose great grandmother was one of the original mill girl suffragettes and says there is a "family history of causing trouble", was by this time involved in a campaign to bring private members' clubs into line with existing equality legislation.
Her research into the events at the Epsom Derby was also gathering pace.
She said: "Boni Sones, who founded Women's Parliamentary Radio, was instrumental in pushing forward my view that Emily was trying to throw the sash around the King's horse and not being suicidal.
"I was giving a speech on the scarf at the Palace of Westminster, and curator Melanie Unwin came up to me and said 'we should have that here'.
"She told me: 'It's the most important relic of women's history and it's under your bed in a carrier bag'."
Once the heritage committee had carried out the relevant checks it was handed over on a free lease - which means it must be released to the owner when required.
'At peace'
It is not its first outing from the House of Commons though, since it featured in the 2012 Olympics opening ceremony's suffragette sequence.
"So, Emily had her day out at the Olympics," Ms Gorna said.
Ms Gorna who will be giving a talk in Morpeth on 15 June, said that during the time the scarf was kept at her home people often noticed a strange atmosphere.
Others felt there was a "great presence" around it.
"This scarf has a life of its own," Ms Gorna said.
"My view, for what it's worth, is that now people accept Emily didn't commit suicide, or at least give her the benefit of the doubt, she will finally be at peace."